In the annals of modern British political history, the 1992 General Election was the ultimate watershed. Defeat at a fourth consecutive election represented – under First Past The Post (FPTP), at least – the final repudiation of socialism in the UK: from whence, the Labour Party's transformation into something almost unrecognisable was triggered. As the Conservatives fell apart over Europe, the Blairite consensus would, following John Smith's tragic death, go on to hold sway; storing up huge future trouble for Labour amongst its traditional support: especially, as is now abundantly plain, in Scotland.
Meanwhile, much as the US Republicans have only won one Presidential share of the vote since 1988, the Tories – once the most successful electoral force in the Western world – have not won a single Parliamentary majority since 1992: when John Major's victory came as a huge surprise. Not only to his party, but to the pollsters.
Throughout the campaign, Labour were believed by almost everyone to be ahead: on course for a small majority, and with a worst case scenario of being the largest party in a hung Parliament. Britain was in recession; memories of the poll tax were still fresh; Neil Kinnock, Labour leader, had done a huge amount to drag his party towards the centre, away from the unelectability of the militant tendency. But something about Kinnock never convinced; somehow, despite continual boom and bust under the Tories, more than enough of the public remained fearful of a return to the Union-dominated ungovernability of the 1970s. Smith's Budget plans, announced early in the election campaign, were leapt upon by his opponents and only exacerbated public fears of heavy tax rises and economic meltdown.
History records that meltdown occurred only 5 months after the election: Black/White Wednesday, 16 September 1992, when Britain was forced out of the Exchange Rate Mechanism (ERM), and the Tories' reputation for economic competence was shredded for a generation. Given that Labour had become considerably more pro-European than the Tories, it's actually a very good job for them that the 1992 election was lost: to have suffered such a humiliation less than six months after regaining power for the first time since 1979 would have been ruinous for the party. Perhaps even, fatal. But why had it been lost?
Famously, the pollsters had failed to take account for possible 'shy Tories': those embarrassed or unprepared to admit they were intending to vote for Major's party, whose brand had already become toxic across huge swathes of the UK thanks to Margaret Thatcher. Pollsters did at least detect something of a narrowing in the race – some sort of movement towards the incumbency – to the point whereby exit polls on election day predicted a hung Parliament, with the Conservatives (just) as the largest party. But ultimately, this was well out: as the night wore on, and especially after David Amess held on in the bellwether marginal of Basildon, it became clear that not only would the Tories remain the largest party, but had actually won a majority: via the greatest amount of votes ever cast for any political party in Britain. Their lead over Labour was almost eight per cent.
John Major: the last Conservative leader to win an overall majority
1992, then, was both Labour and the opinion pollsters' Goetterdaemmerung. Both would change their approach hugely in the years ahead: the latter resolving never to make such a mistake again, and building all sorts of adjustments into their methodology to ensure they did not. By and large, these have worked – Labour's majority of 66 was being correctly predicted even as the 2005 campaign got underway; exit polls on election night in 2010, dismissed by many because of how much they were assumed to understate Liberal Democrat support, actually proved practically bang on the money.
But 2015 poses entirely new challenges: multi-party politics conducted within an outmoded electoral system which cannot cope; post-referendum transformation in Scotland which threatens Labour's complete destruction; Ukip peeling off support from both major parties; and in England, a series of desperately tight Tory-Labour marginals which are almost impossible to call, and will decide the outcome.
Hot off the heels of Nate Silver's extraordinary accuracy in predicting the 2012 and 2008 US election, a series of forecasting and 'nowcasting' websites have sprung up: Election Forecast, with which Silver and fivethirtyeight.com have a tie-in; Elections Etc, run by Steve Fisher of Trinity College, Oxford; the New Statesman's May 2015; even one hosted by The Guardian. The latter two are 'nowcasting' sites: extrapolating the outcome from the polls as they stand now. The former two are forecasts, with built-in swings back to the incumbency: in this case, the Conservatives and Liberal Democrats.
For several weeks, all but one have been predicting that combined, Labour, the Scottish National Party (SNP) and smaller parties such as Plaid Cymru, the Social Democratic and Labour Party (SDLP), and the Greens, would hold an anti-Tory majority in the House of Commons. Indeed, until only the last few days, May 2015 thought merely the combined Labour-SNP seat total would be enough; The Guardian still does now (Tuesday morning, May 5).
May 2015 was confident enough to splash a detailed, convincing (at the time) piece explaining why Ed Miliband held many more routes to 10 Downing Street than David Cameron – but yesterday, suddenly began to have second thoughts. Now, it highlighted the possibility of a late movement back towards the Tories, very much in the style of the unexpected swing to Likud in the final hours of the Israeli elections in March. It noted the mounting prospect of any Labour-led minority administration being deemed illegitimate by public (if certainly not constitutional) opinion should Labour finish second on votes and seats, and especially should it be dependent on SNP MPs to carry legislation… and also pointed towards something else. One of two things which must be giving polling companies and forecasting websites sleepless, cold-sweated nights.
Throughout the last fortnight, the share of the vote has appeared deadlocked: perhaps with the Tories a fraction ahead, but no more than that. But most polls conducted over the last two weeks have been internet-based; and given how the Scottish referendum polls over-estimated support for the YES campaign, and their tendency to attract responses via one click from some who don't carry through their opinion on polling day, these internet polls may very well be wrong. In fact, I strongly believe they are.
Conversely, in telephone polls, the Tories have held a consistent three-point lead. This fits in with the idea that older voters are less likely to be part of internet-based surveys; younger voters are less likely to have landlines; and over the phone, questioned one-to-one, voters are more likely to be honest. But at general elections, older people vote far more than their younger counterparts. Simplistic though this must sound, while internet polls should be expected to lean towards leftist, progressive parties, phone-based ones are likely to do the opposite: but the latter are considerably more likely to represent the true picture.
As May 2015 noted, a slightly more than three-point lead for Cameron on Thursday will put him in a strong, though not impregnable position: with a combined Tory-Liberal Democrat-Democratic Unionist Party (DUP) bloc close to the de facto winning line of 323 seats. But the problem is this still underestimates the likely outcome.
Despite all their changes to make allowances for shy Tories and late moves towards the incumbency, the polling companies continued to underestimate Tory and Lib Dem support in 2001, 2005 and 2010; and overstate Labour support. This went largely unnoticed because the Labour landslide in 2001, heavily reduced majority in 2005, and – after the first televised debate and accompanying 'Clegg bounce' changed the picture completely – hung Parliament in 2010 were all so predictable. The pollsters got the bigger picture right; but the detail was still awry in very consistent areas.
But the real bombshell for psephologists – and just as much, for Miliband – landed yesterday: when a Guardian/ICM poll found a huge difference in Sheffield Hallam when electors were asked first, to put the local context and candidates to one side, and name their nationwide preference; but second, the candidates' names were included as part of the question. Names, of course, which include that of Nick Clegg, Lib Dem leader and Deputy Prime Minister.
Nick Clegg's seat is THE most critical at this election
On the nationwide question, Labour emerged with a 34-32 lead: in line with the recent constituency polling of Lord Ashcroft, who we'll come to in a moment. But on the second question, Clegg shot seven points ahead of Labour challenger, Oliver Coppard, thanks to huge tactical voting from Conservatives determined to help ensure a continuation of the coalition.
Sheffield Hallam is, without question, by far the most important single seat at this election. With the Lib Dems likely to have their vote cut in half and see their number of MPs haemorrhage, it is extraordinarily difficult to envisage how they can possibly support a second coalition if Clegg falls. But as yesterday's poll confirms, he is unlikely to. David Laws has already expressed a preference to work with the Tories in a hung Parliament; and with all forecasts already agreeing that Cameron's party will remain the largest, Clegg has spoken of a Labour-led, anti-Tory administration amounting to a 'coalition of the losers'.
His first discussions will, he appears to have confirmed, be conducted with the party with most votes and most seats: just as in 2010. And the only real stumbling block in terms of policy will be over cuts: which Cameron will need to give way on for Clegg to agree to an in/out referendum on the EU (the latter, for which his party will surely receive at least some public approbation). With the Tory right and Lib Dem left likely to complicate and delay matters, full-blown coalition is probably unlikely – but some sort of agreement short of that is not, locking out both Labour and the SNP.
The Sheffield Hallam poll, though, has far broader implications. With the concept of uniform swings (from which Amess' victory in Basildon translated remarkably seamlessly into a Tory majority in 1992) very much a thing of a past, and British politics in uncharted, multi-party territory, Ashcroft has conducted a whole series of individual constituency polls throughout the run-up to and during this election campaign. His work constitutes a hugely valuable resource; his contribution has been fascinating, opening up the business of polling to a much wider audience, and greatly appreciated by forecasters and psephologists. But is it flawed? Even, fundamentally so?
The problem is this. When asking electors their voting intentions, Ashcroft does not name the candidates – but on polling day, of course, all are listed. And with no other local data to go on, both May 2015 and Election Forecast have used Ashcroft's findings to help predict the outcome. Are these reliable enough?
Even against that backdrop, last week, Ashcroft found the Tories had opened a surprising, almost inexplicable lead in Croydon Central: where according to his snapshots, an eight-point swing had occurred over a single month, despite Labour having been assumed by almost all observers to have had the better national campaign, despite them having closed up and tied the national opinion polls. He also found that in Wirral West, a seat long considered highly likely to fall to Labour, and currently held by the divisive figure of Esther McVey, Minister for Employment (and before that, Parliamentary Under-Secretary for Work and Pensions), the gap had been reduced from five to three points.
Might Esther McVey be 2015's answer to David Amess in 1992?
Just as Clegg's seat is pivotal, so is McVey's. Were she, rather like Amess in 1992, to unexpectedly hold on, the Tories will certainly head the next government. Of course, had the candidates been named in Ashcroft's polling, her responsibility for the coalition's cuts and sanctions may well have counted against her: name recognition can be double-edged. But even in its absence, May 2015 began to backtrack slightly from their earlier confident prognosis for Miliband – and Ashcroft's data may well not tell the whole story, or even close to it.
In their updated position, May 2015 highlighted 27 seats in which, according to Ashcroft, Labour are at least four points ahead. Should this be confirmed on Thursday, Miliband will only need another six seats for a Labour-led bloc to hit the magic figure of 323. By their estimation, he will have 16 realistic opportunities to make these further precious gains.
But while a four-point lead sounds comfortable, it's actually within the margin of error – and based on data which does not name individual candidates. Were McVey to hold on in a seat which, according to Election Forecast (also dependent on Ashcroft's data), has an 85% chance of falling to Labour, all that data could be wrong. Very wrong. It surely already was in Sheffield Hallam: May 2015 is so dependent on Ashcroft that until yesterday's opinion poll, the Deputy Prime Minister's constituency remarkably sat in the Labour column.
To put that 85% probability in Wirral West into perspective, it coexists alongside Election Forecast putting McVey's opponent, Margaret Greenwood, just four points up. Huge numbers of similarly high probabilities are given by the website for seats so close, they're practically on a knife-edge – and based on data which (a) may well be flawed; and b) was collected before the late incumbency swing which happens at so many elections all over the world. Election Forecast say they've accounted for this: but given their reliance on Ashcroft's information, and on national opinion polls which tell a different picture depending on whether they're conducted over the internet or telephone, are their numbers right to begin with?
Again, remember that polling companies have a long, consistent recent record of underestimating Tory and Lib Dem support, and overestimating that of Labour. Remember too that in Israel this year, at the Scottish referendum, even at last year's Uruguayan elections, the status quo out-performed forecasts. In the latter case, the race was believed to be extremely close throughout much of the year: for substantial chunks of which, it seemed that Luis Lacalle Pou's centre-right Partido Nacional and Pedro Bordaberry's further right Partido Colorado would combine in a second round run-off to defeat the governing leftist Frente Amplio (FA) (Broad Front).
Yet in the event, remarkably, despite the hype surrounding Lacalle Pou's campaign, and his positive, inclusive message (for him then, read Miliband and Labour now: neither attacked the government in the way they might have done, both chose to focus on optimism and a 'better plan' instead), the FA actually increased their support on the previous election, held in 2009. Polling organisations were embarrassed: but later concluded they had failed to properly reach Uruguay's more distant, rural regions, a number of which lack regular internet access; some of which lack telephone lines. Even in Britain's fully developed society, are its internet pollsters failing to reach certain sections of older voters too?
There are, beyond that, a good number of more general reasons why Miliband is heading for defeat. Above all, strategy. He has presided over Labour's most progressive platform since 1992 at a time when the coalition are, rightly or wrongly, broadly considered to have done a solid job, and the Prime Minister's ratings remain good (thereby offering too great a change at a time things appear stable), but for whatever reason, failed to appeal to enough young voters; or traditional Labour supporters now heavily courted by Ukip; or especially those in Scotland. In the latter case, while Labour's message in England has been admirably positive and upbeat, in Scotland, it's been the reverse: talking at, even condescending its traditional vote; scaremongering about pensions and the SNP "letting in the Tories' instead of offering any positive reasons to vote Labour.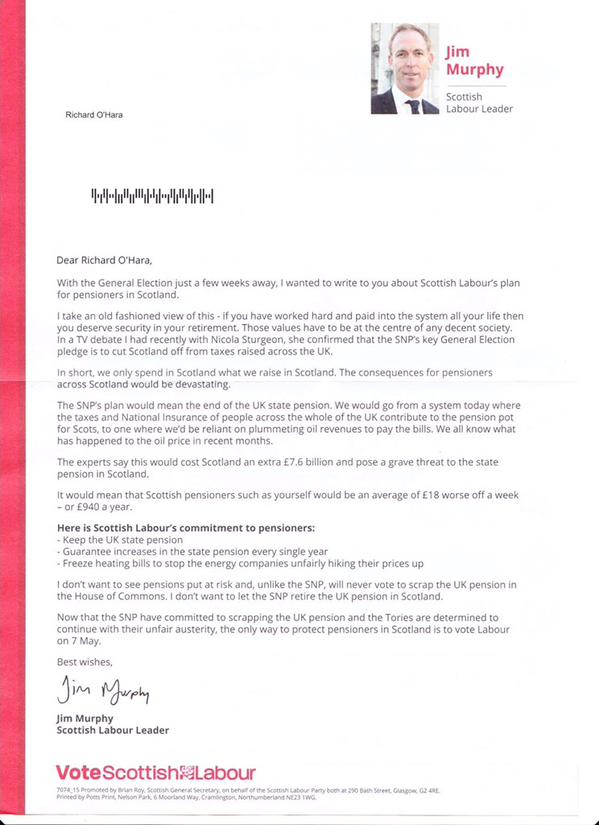 Much the same mistake was made during the referendum campaign: immediately following which, it was abundantly clear that UK Labour had no conception of the seismic shift which had just occurred. At least three critical months were lost as Labour's leaders in London contemplated their navels, while the SNP made colossal political capital out of The Vow, and especially Cameron tying this to English Votes for English Laws the morning after the Union had been saved. The SNP mobilised furiously against the 'Red Tories'; Labour sat on their hands.
The remarkable failure to offer a referendum on EU membership also means that those tempted by Ukip have no obvious reason to return to the fold. Given the colossal democratic deficit of the EU, and its mounting unpopularity across much of the UK, and especially amongst the working classes in regions like the West and East Midlands, this is a huge blunder. The Tories are now wooing Kippers back into the fold by promising a referendum; Labour fails to counter this in any meaningful way.
Beyond this, given Labour's complete failure to reverse a wildly inaccurate, often absurd narrative regarding their 'responsibility' for a worldwide crash: before which both the debt and deficit were lower as a share of GDP than in 1997; which itself was caused by the banks; and following which, the coalition – despite inheriting a rapidly growing economy – have failed to rebalance it in any way, almost doubled the debt, and are now presiding over alarming levels of slowdown amid a global outlook of increasing concern, it shouldn't be a surprise that the public still regards the Tories as far more economically competent.
Cameron has made particular hay of waving around Liam Byrne's infamous Treasury note wherever he goes. Strangely, he fails to mention that such notes are merely a tradition from an outgoing minister to his successor, or that no country (least of all a growing one) can 'run out of money' when controlling its own money supply – but again, Labour lost control of the narrative, and only has itself to blame for failing to properly articulate an altogether different reality. With regard to which, offering Ed Balls, who the public blame for the crash almost as much as Gordon Brown, as prospective Chancellor hardly helps either.
And then, of course, is the SNP. At a loss as to what to do regarding the extraordinary rise of Nicola Sturgeon's party in Scotland, Labour has been squeezed, horribly, by English fears of a government 'being held to ransom' by those who want to break the UK up. Whatever Miliband did here, he could only lose. Joining Sturgeon in an anti-Tory alliance would result in floods of English votes in those key marginals disappearing to either Ukip (a little) or the Tories (a lot); having nothing to do with it could only further alienate Scottish voters sick of being taken for granted for so long.
The SNP have exploited the latter to such an extent that they've certainly left me suspecting that actually, their secret wish is indeed for a Tory or Tory-led government: in which they can avoid any responsibility, and continue to build up support for independence ahead of a second referendum. There is no doubt that Sturgeon, Alex Salmond et al will know how their sabre-rattling plays in English marginals: but then again, as a Scottish party increasingly winning the argument that, as a political construct, the UK is bust, why should this concern them?
Miliband's 35% strategy was doomed the moment Labour campaigned alongside the Tories at the referendum. However difficult this was to avoid in a binary contest, far more thought should've been given to what this would look like; a far more distinctive approach,  conducted as far away from Cameron as possible, needed to be offered. It wasn't: so the tectonic plates shifted decisively and historically.
Of course, just as the concerns over Ashcroft's data spell very bad news for Labour in English marginals against the Tories (where, according to a piece on Labour Uncut from last weekend, the party are performing so badly that this prompted Miliband's courting of Russell Brand and the youth vote), they bring happier tidings in Scotland. Name recognition of certain candidates may – in fact, probably will – enable Labour to out-perform the bleakest predictions, and prevent the SNP sweeping the board. But the failures I strongly anticipate against the Conservatives will render this redundant; and with similar name recognition factors likely to help the Lib Dems' seat tally hold up somewhat, this will only point the UK back towards a second coalition, or something close to it.
Speaking of the Lib Dems: to have run the party's Facebook page throughout the last 5 years must have been an exercise in purest masochism. Post after post resulted in abuse, often very personal, from those who felt so let down and betrayed by the coalition – yet all of a sudden, its posts are being greeted with praise; even, gratitude. Why? English voters have looked at the choice between Labour propped up by the SNP or the Tories working in tandem with the Lib Dems, and find the devil they do know vastly preferable to that which they don't. Clegg's strategy of presenting his party as a sane, moderating influence, and guarantors of future stability, is bearing dividends, and isolating Miliband's party from post-election negotiations.
Finally, there is the leader himself. Ed Miliband has had an unexpectedly good campaign: neutralising most of the media's attacks, rising to the occasion, even becoming one of politics' least likely sex symbols ever.
But ever since his election as Labour leader, he has never truly convinced: both because his approach has been too left wing (which under FPTP, has failed to succeed at any election since 1974), and because, despite his many achievements, he lacks gravitas. That magical, you've-either-got-it-or-you've-not sense of being authoritative and above all, Prime Ministerial. Cameron has always possessed this: which was why Labour knew they were in danger the moment he became Tory leader. Miliband simply hasn't. In modern politics, style does matter every bit as much as substance, if not more; Miliband, cruelly, is damned by what the electorate have come to expect in leaders such as Thatcher, Tony Blair or Cameron, and has been unable to advance his wholly different approach convincingly enough.
Over the last few weeks, I've spoken with close friends and family members who, were Miliband genuinely about to enter Downing Street, would all almost certainly be voting Labour. But none of them are. My mother voted SDP during the 1980s; loathes what this government has done to the most vulnerable with all her soul… yet has voted Lib Dem by post. My best friend, disgusted by Blair's war in Iraq and Cameron's intervention in Libya, is very far removed from ever voting Tory… but will be choosing either Green or Respect.
Another close friend, again all too conscious of this government's war on the poor, says she'd certainly be voting Labour if its leader's name began with 'David'… but as it doesn't, is too alarmed by the prospect of Ed representing the UK internationally to do anything other than vote Conservative. My father is no right winger – but is horrified at the idea of Balls back in the Treasury, and will unhesitatingly vote Tory to prevent this. And almost no-one amongst those I know in Scotland – most of whom routinely voted Labour until 2010 – will be doing anything other than throw their weight behind the SNP.
These are all mere anecdotes, but they speak to a much wider story. Whether through English fears of runaway SNP influence, concerns over Miliband's lack of modern leadership skills, his failure even now to distance his party far enough from New Labour (whose reputation, thanks to both Iraq and the financial crash, is toxic), or Scottish fury at the 'Red Tories', he simply hasn't done enough. Not to mention the broader, time honoured point that oppositions don't win elections, governments lose them; and in the absence of anything resembling a disaster under its watch, this government is still considered competent by enough of the electorate to be heading, again in hybrid form, for a second term.
As I noted earlier, defeat in 1992 was ultimately a blessing in disguise for Labour. As it was then, so I strongly suspect it will be again: because with the economy slowing down quarter by quarter, still entirely dependent on services, and many key international markets in trouble, I fully expect the UK to head back into recession within the next year. Perish the thought, so many global fundamentals remain horribly unsound that there may even be a second global crash looming in the next two or three years. For Labour to be anywhere near government at such a time would surely destroy it forever; and for it to form a minority government dependent on the SNP would allow the latter to take credit for any of its successes, the former to be blamed furiously in England for any economic woes.
That, I believe, is why a number of Labour MPs have already suggested that a 'coalition of the losers' should not be formed: it simply wouldn't be in the party's strategic interests to do so. That is also why Miliband has made such a point of the need to win a majority, and Scottish Labour have repeatedly stated that "the largest party forms a government". Constitutionally inaccurate, this may be; but in a bitterly divided Union, to huge swathes of the English public, it is the reality. Indeed, it's the very thing that's pushing more and more worried voters into Cameron's grateful embrace.
This piece, incidentally, should not be construed as an attack on the pollsters, or the forecasters. They do a thankless, manful job, opening up the intricacies of democracy and elections to us all. It is most certainly not an attack on Ashcroft either: his work has been unique, even revolutionary where pollsters are concerned. But I strongly believe that his data (and hence, that of all forecasting websites except Elections Etc, who have consistently had the Conservatives doing better in votes and seats, and will I'm quite sure be vindicated on Thursday; and to a lesser extent, YouGov, whose sudden shift on Sunday night based on one poll suggests Peter Kellner, doyen of British pollsters, knows something is up) does not tell the full story; and that come Friday morning, contrary to what so many are suggesting, Britain won't be set for weeks or even months of paralysis.
Internet-based polls are almost certainly inaccurate. Ashcroft's methodology is suspect. A late shift to the status quo almost always occurs, is probably already ongoing, yet is never properly picked up until the results come in. Tory scare stories regarding SNP influence are having an impact. Miliband hasn't done enough. His party doesn't want an illegitimate coalition or deal.
What does all this mean? Contrary to what so, so many believe, the outcome of the 2015 General Election – which I expect the Conservatives to win by around four points, leaving them with over 290 seats – will point very simply to a continuation, in whatever form, of the Conservative-Liberal Democrat coalition (perhaps not even needing the DUP's help); and to renewed, painful soul-searching within Ed Miliband and the Labour Party.